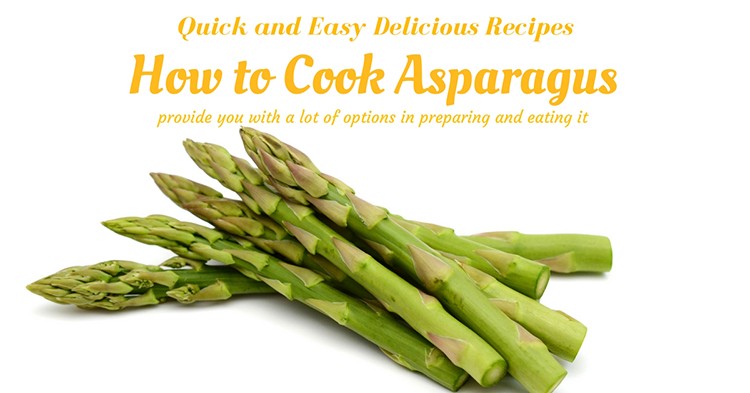 How to Cook Asparagus (5 Ways): The Definitive Guide For Beginners (And 20 Best Asparagus Recipes)
Do you love asparagus? I'm quite sure that you do because once you taste this type of food, you'd want to eat it again and again. Am I right or am I right?
If you don't know how to cook asparagus, or just want to know the many different ways on how to cook it, or simply want to know more about this strange-looking bundle of goodness that you always find in the supermarket (vegetable section) – you've come to the right place.
Not only will I present you with more than one way of cooking asparagus in this article – I will also provide you with a lot of options in preparing and eating it. AND, I will also attempt to answer all your questions (and would-be questions) towards the last part of this article while providing you with a LOT of useful tips, tricks, and advice as well.
Let's begin, shall we?
More...
Overview of Asparagus
What is Asparagus?
Asparagus is actually a type of plant – a perennial plant, to be exact. Because of its characteristics, it is cultivated, grown, and consumed as a vegetable crop.
As a type of vegetable, you can already tell that it's very nutritious. In fact, it's loaded with A LOT of vitamins and minerals – thereby making it a medicinal food. It is also important to note that it has diuretic properties, and is therefore useful in cleansing the body of toxic wastes.
Although asparagus can grow to be bushy, only the young shoots are actually eaten. In fact, when the shoots become very mature, you will find them woody (tough and hard) and no longer eatable.
Still, asparagus is a versatile type of vegetable and can be eaten in many different ways. However, while you can eat it as the main dish, it is more commonly used as one of the ingredients in the main dish. And of course, it can also be eaten as the side dish and in salads and smoothies as well.
What Does Asparagus Look Like?
The asparagus vegetable comes in 3 main varieties (distinguished by color) – green, white and purple (green is the most common).
When buying asparagus in the grocery, you will usually find the stalks (also called shoots or stems) in bundles of about 10 pieces or more. They're quite easy to find (if it's your first time) as you will not miss those pencil-looking stalks in the vegetable. So, just imagine a bundle of a pencil when looking out for asparagus – but note that the bundle can consist of thin or thick stems.
What Does Asparagus Taste Like?
If you're an asparagus lover like me, you already know that it's tasty and delicious on its own. Fresh and properly cooked asparagus has a mild, sweet taste that's not too overpowering (it's a pleasant-tasting vegetable, so to speak). We can also say that it has a distinct and unique flavor that makes it extra special.
Sure, I know some people who find asparagus bitter-tasting and even sour at times (and therefore, not so pleasant to eat). But here's the thing – asparagus usually turns sour and bitter when it's already mature – so, always go for fresh, young bundles. Moreover, overcooking asparagus can also result in unpleasant flavors and not-so-good texture (that's why it's important to prepare and cook it properly).
5 Ways to Cook Asparagus
The best way to cook asparagus is to cook it just the way you like it. In this portion of this post, I will show you the many different ways on how to cook this amazingly healthy and delicious vegetable. This way, you will enjoy it in just as many different ways. The methods are categorized as follows:
The Stovetop Way
Basically, there are 3 methods that you can use when cooking asparagus on the stove:
Each one will be explained in detail below.
The Steamer Way
Steaming is a popular way for cooking vegetables as this method will preserve their nutrients better than other cooking methods. If you really want to preserve all the natural vitamins and minerals in asparagus, this is the way to go when cooking it. It's also a fast and easy method – so, it will only take you about 5 minutes or so to have your cooked asparagus ready.
How To Steam Asparagus Via Scoff
How to Steam Asparagus Without a Steamer
The Microwave Way
Cook Asparagus in the Microwave Via datenightchef
Cooking food in the microwave has always been fast and trouble-free. Such simple cooking can also be used in asparagus and you will end up with a delicious dish.
So, there you have it – I just presented you with very easy steps on how to cook asparagus in the microwave. But wait – I can also show you steps on how to boil asparagus in the microwave oven. Yes, you read that right – although you can boil asparagus on the stove (as I just showed you in The Stovetop Way portion a while ago), you can also boil this vegetable in the microwave. The steps are listed below.
Now, if you're only cooking a few pieces of asparagus stems (one serving of about 5 pieces), you can opt for a simpler method. For such a purpose, perform the following steps:
The Oven Way
If you want roasted asparagus (which is, of course, tasty), you will need to cook this dish in the oven. Since asparagus is already flavorful, you barely need to add other ingredients to it (unless you want to, of course). As it is, you can simply season it to bring out its natural taste, flavor and character. The steps to cooking asparagus in the oven are listed below.
How To Make Oven-Roasted Asparagus Via MrRepzion
The Grill Way
If you are a fan of grilled vegetables, be sure to try grilling asparagus, too – you will surely love it! A grilled asparagus recipe is not only tasty (just imagine that distinct smoky taste on this flavorful veggie) – it's also very easy to make. And so, without further ado, the steps on how to cook asparagus on the grill are listed below.
Grilled Asparagus Recipe - Learn How to Grill Perfect Asparagus Every Time! Via Forkly
There! Enjoy your grilled asparagus dish. But before I proceed to the next section, let me show you the steps on how to grill asparagus on the stove. Well, today's modern technology allows us to be very flexible in many different things – even in cooking. So, if you have a grill pan, you can grill over the stove by following the steps listed below.
Bonus Tricks
Experts' Advice (Pro Tips from Other Bloggers and Websites)
Now that you know the many different ways on how to cook asparagus, let me share with you some advice (from experts in the field) to make your asparagus recipes and cooking experience even better.
Correcting Common Problems
Do You Have to Peel Asparagus?
If you're using mature or thick asparagus, yes, you have to peel them (their outer skins are quite tough and hard to chew). However, if you're using young or thin asparagus, there's no need for you to peel them because their overall character is soft and tender. You still need to trim off the lower portion, though (the woody part).
How to Peel Asparagus Via Sunset
How to Cook Canned or Frozen Asparagus
In general, you can cook canned asparagus in the same way as fresh asparagus. After draining from the can, you can use a frying pan to cook the stems. You can then add olive oil to this and season with salt and pepper. Adding parmesan cheese to the recipe won't hurt either (but I'm sure you already know that, right?).
You don't need to thaw frozen asparagus before cooking as the stems will naturally thaw while cooking. Therefore, you can cook frozen asparagus just like fresh asparagus. For example, you can fry, steam or boil frozen asparagus by following the steps in cooking fresh asparagus. And it's still important to not overcook them as the final result should be tender but crispy.
How Long Do You Cook Asparagus?
Cooking time will depend on the method you're using, the volume of asparagus you're using, and the overall condition of the vegetable. Needless to say, cooking a lot of asparagus will take more time than if you're cooking just a few stalks. Also, thick stems will take longer to cook than thin ones.
Just keep in mind that as a type of vegetable, asparagus cooks easily and can get soggy and mushy when overcooked. Allot around 2 to 10 minutes (or more, if you're cooking a large batch) and adjust accordingly to the current conditions.
How Do You Know When Asparagus is Done?
Ok, this might need a little more practice to get it right. Generally, however, you can check for doneness by piercing the asparagus stalk with a fork or knife. The insides should feel tender (not hard) and the overall structure of the vegetable should remain intact (not mushy). Unless roasted, cooked asparagus will have bright green color. Also, when you eat them, the texture should be soft and tender with some degree of crispiness retained.
How Long is Asparagus Good For?
Fresh asparagus has a shelf life of about 5 to 7 days (maximum). Submerging them in water will help in retaining their flavor and freshness. Still, it's advisable to cook them immediately (in a day or two) after purchasing them. As for cooked asparagus, the dish can also last for about a week, as long as you put it in the refrigerator or freezer (but you also need to consider the other ingredients in the recipe).
How to Tell if Asparagus is Bad
Asparagus will start to rot at the tips first – so, observe this part first. If the tip is already soft and mushy (with dark green-black color), you can cut the tips off and still use the stem parts. However, if even the stems are already mushy – then just throw everything away. A really really bad asparagus will be very soft and mushy and even moldy.
20 Best Asparagus Recipes You Will Love To Try
By now, I'm sure you're already inspired to cook asparagus dishes and try out the different ways and methods of cooking it. What better way to end this post than to give you 20 easy, delicious asparagus recipes?
Frequently Asked Questions for Asparagus
Conclusion: Enjoy Eating Asparagus Because It's Good for You
Yes, you should definitely enjoy eating asparagus because it's one of the best natural food around! And hey, I believe I have covered everything there is to know about cooking asparagus in this post. You now know how to cook asparagus using the different methods of cooking mentioned in a special section of this article, right?
Still, if you have other questions and concerns about the topic (anything on asparagus), just let me know by leaving a message in the comment box below. I will gladly answer your question or inquiry as soon as I can.
Resources and Further Reading