Quick Easy Cook's Top Food and Cooking Blogs To Follow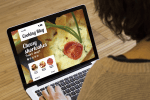 There are a lot of Blog Sites about food out there, and it could take you eons to figure out what suits your cravings. But don't worry, we have compiled the best and most delicious food sites out there, with short and concise descriptions so you can pick and select your preference of satisfaction.
Below is the list of the tastiest websites that you can follow. Most of them provide step by step instructions or tutorials on all kinds of healthy recipes, from breakfast, appetizer, brunch, dinner, dessert and anything in between. From online Ingredients, cooking tips , techniques, infographics , we've got it all here for you!
More...