HOW TO MAKE SPAGHETTI SQUASH: For Beginners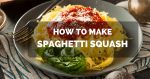 Some people think that is difficult making a spaghetti squash that is why they wouldn't dare try and make one. In this tutorial, I will be teaching you, a step by step guide on how to make spaghetti squash.
More...
HOW TO MAKE SPAGHETTI SQUASH: For Beginners
Benefits of Spaghetti Squash
If you enjoy pasta like carbonara or spaghetti but are trying to maintain or lose weight and watching your intake of calories or carbs, then you already have two reasons to choose this vegetable as a low calorie, low carb replacement.
It actually helps for weight loss. Spaghetti squash contains a fair amount of fiber, with 2.2 g, per 1-cup serving. Fiber can also help with weight loss as it makes you feel fuller longer.
Antioxidants found in this squash variety are beta-carotene, lutein, and zeaxanthin, which can all help you out if your eyes are starting to go bad.
There are two ways of making spaghetti squash: via Oven & via Microwave
INGREDIENTS
Microwave
1 Spaghetti Squash
¼ cup water
Oven
1 Spaghetti Squash
1-2 tsp. olive oil
½ - 1 tsp. kosher salt
¼ - ½ tsp. black pepper
IN A MICROWAVE
STEP 2: Put in the microwave
Let it cool. Then cut it in half.
Put the squash into the microwave and time it into 15 minutes.
Pat the sides of the squash and check if it got softer.
If it is, then it is already cooked.
If it is still hard, put it back for 3 more mins
Let it cool then cut it in half using a sharp knife.
Using a spoon, remove the seeds from the squash
Do not throw away the seeds; you can save it to roast later.
STEP 4: Gently pull the strands of the squash
Gently pull the strands of the squash via greatist
Scrape it and place it into a bowl
DID YOU KNOW

: Spaghetti Squash is such a nutritious alternative to pasta. Compared to pasta's 43g/cup, spaghetti squash only contains 7g. They may not taste as good as the pasta but it brings a satisfying and sweet flavor extremely healthy too.
IN AN OVEN
STEP 1: Preheat the oven to 425 degrees
Place an aluminum foil on a table.
Slowly and surely slice the squash in half through the stem.
Make sure that it is cut in half to for equal scraping.
Using a spoon, slightly scoop out the seeds
Slightly scoop out the seeds via asweetpeachef
STEP 2: Drizzle olive oil
Season and Roast
Lightly drizzle olive oil over the freshly cut squash
Then sprinkle some salt and pepper
Flip the squash to be cut down to the aluminum foil
Place in the oven and roast until a soft
Wait for 45 minutes to 1 hour.
You can check if it is cooked when you poke it with a fork
Poke it with a fork via asweetpeachef
Take the squash and let it cool
Gently scrape down the squash's flesh with a fork to remove it in long strands and then transfer them to a bowl
You actually don't need to place it into a separate bowl, you can actually use the squash itself so that the flavor will still be there while you are eating it.
Variety of Spaghetti Squash Recipes
If you don't know what to do with those spaghetti squash anymore, here are some recipes to spice it all up.
Roasted Shrimp with Spaghetti Squash
If you are a seafood fan, this healthy guilt-free dish is just for you. Sweet shrimp roast alongside the squash in this easy, impressive main dish that takes only 10 minutes of prep time.
I loved the crunchy texture of the bed of squash against the softness of the simple roasted shrimp. It is so mouth watering indeed.
Serve with a simple green salad and garlic bread for a weeknight meal. Did I mention it is also gluten-free? This is a definite must try.
Spaghetti Squash with Turkey Meatballs
This meal has all the fun and flavor of traditional spaghetti and meatballs
This recipe can help you reduce the carbohydrates and increase the vegetable servings by skipping the pasta and serving the Italian-seasoned turkey meatballs and quick, homemade marinara sauce. Instead of pasta, you will, of course, be using spaghetti squash.
The tasty turkey meatballs and simple, garlicky tomato sauce will become a part of your regular diet, say hello to the healthier you.
Roasted Spaghetti Squash with Herbs
Sprinkle with brown sugar, salt, and pepper, then roast until the flesh is tender and easy to pull into strings with a fork. Although, you can experiment on which herbs and spices to put into your spaghetti squash.
Parmesan cheese, toasted hazelnuts, and fresh herbs add loads of flavor to the mild, sweet squash. What more could you possibly ask for?
Always remember though you should follow the advice of your health-care provider. Some of the ingredients, no matter how healthy they are, can harm you if you do not be careful on what you eat especially if you don't get regular check-ups.
More Benefits of Spaghetti Squash
Wide range of vitamins and minerals
Low in Fat, Calories, and Carbs
High in fiber
Aids Weight loss
Provides healthy bones and tissues
Reduces risks of cardiovascular disease
Lowers cholesterol
Helps regulate blood sugar
Helps poor eyesight