Quick and Easy: How To Melt Nutella In 4 Easy Ways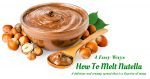 Nutella is a versatile ingredient – and it can also be eaten as is (it's everybody's favorite, too!).
Since soft Nutella is needed in recipes for cakes, cupcakes, and other types of desserts, you should know how to melt Nutella. It can harden up in the fridge, you know – and that's where it should be stored if you want, to prolong its life. Also, some people have "ant problems" – that's why they have no other choice but to keep an open bottle of Nutella in the refrigerator.
If you're using Nutella as the spread on your toasts, you undoubtedly need it soft and spreadable too, right? I know how it is to spread hardened up Nutella on a piece of soft bread – it's like murdering the bread.
The truth is, it's not that hard to soften up Nutella so that you can enjoy it in its best texture. In this particular article, I will present you with 4 easy ways on how to melt Nutella. Watch out for some simple Nutella recipes, too!
More...
What is Nutella and Why Does Everyone Love It?
Nutella is that delicious Hazelnut spread made by Ferrero – yes, the same Company that makes the famous Ferrero Rocher chocolates.
In texture, Nutella can be compared to the more common peanut butter spread. However, when it comes to taste, Nutella is so much sweeter and more delicious. Well, I'm sure all Nutella lovers will agree to that.
Nutella is so good, in fact, that this can be used as the base ingredient for Nutella dessert recipes. However, using it as an ingredient will require that it be softened first – which is really easy to do, as you're about to find out.
4 Easy Ways on How to Melt Nutella
I will present you with 4 simple ways on melting Nutella. Basically, you can use any of the 4 methods listed below.
Keeping Nutella at room temperature
Using the microwave to melt Nutella
Using a hot butter knife to soften Nutella
Boiling water to melt Nutella
How to melt chocolate Via Allrecipes UK | Ireland
Each of the methods mentioned above will be discussed in full in this article. Let's start right now, shall we?
Method 1 – How to Melt Nutella by Keeping It in Room Temperature
Because of the oil content in Nutella, the mixture can easily harden up when putting in the refrigerator. And so, leaving it on the table or in the cupboard is one of your options.
If you're one of those people with ant problems in their homes (ants love Nutella, too, as a lot of people have testified), it may not be practical to just leave your Nutella around. What you can do is place the bottle of Nutella on a shallow dish with some water (this will deter ants from attacking the sweet bottle of Nutella).
I know, I know, this method can prove to be quite troublesome – but at least you will be able to enjoy your soft Nutella any time of the day, right?
Another possible problem with this technique is the weather. While it can prove to be effective during the hot months (especially during the summer months), the technique might not work as well during the cold months (especially during winter months).
If the method of leaving a bottle of Nutella at room temperature is not possible for you, don't worry – there are 3 other proven ways to melt Nutella. And these methods work in any weather condition.
Method 2 – How to Melt Nutella by Using a Microwave
How to melt chocolate in the microwave Via Sikana English
Here are the steps on how to melt Nutella in the microwave:
STep 1

Step 2

Step 3

STEP 4
Put the needed amount of Nutella in a microwave-safe container with a lid (but keep the lid unsealed)
Some things to remember: Heat only a small amount of Nutella if you only need some for bread spread. For desserts and dipping recipes, you might need to heat a larger amount of mixture.
Method 3 – How to Melt Nutella by Using a Hot Butter Knife
There are 2 types of the butter knife that you can use for this technique, an electric butter knife, and a non-electric butter knife.
Electric butter knife
An electric butter knife (also called butter spreader) will heat up at the right temperature so that it can slice through hard butter easily. Yes, it can be used for melting butter and it can be used for softening and melting Nutella as well.
Non-electric butter knife
For this method, you can use an ordinary butter knife or an innovative non-electric knife that uses your own body heat to warm up. A warming butter knife acts as heat conductor when you're holding it – it gets warm and becomes an effective butter (and Nutella) softener.
SpreadTHAT! Self Melting Butter Knife KBK.A201C Via Kitchen & Company
2 Ways to Use an Ordinary Butter Knife to Melt Nutella
Let me show you some Nutella softening hacks using an ordinary butter knife. If you're drinking hot coffee or tea and are served with hard cold Nutella as the bread spread, consider doing any of the following:
Dip the knife in your hot coffee or tea for a few minutes until it becomes warm. You can then use the knife as a warming butter knife to soften up hardened Nutella.
If you find the above technique quite messy (as you will probably need to dip the knife several times), you can simply place the knife on top of your hot drinking cup. Again, this will cause the knife to warm up so that it can melt hardened Nutella on contact.
Note

: This technique is only useful for melting or softening up small amounts of Nutella
Method #4 – How to Melt Nutella by Using Hot Water
The technique of using boiling water to melt Nutella can be used in small amounts and large amounts of Nutella. There are 2 ways to do this:
Dipping the knife in boiling water
This method is similar to using a hot butter knife in melting or softening Nutella. A cup of boiling water can be used instead of your own cup of coffee or tea for said purpose. It's also less messy, as you can already tell.
Submerging the bottle of Nutella in hot water
Putting a bottle of Nutella in a bowl of hot water will effectively melt it in just about 5 minutes or so. It would also speed up the process if the mixture is stirred every now and then while in the process of softening up.​
Some notes to remember: While you can use boiling water for dipping a butter knife, don't use boiling water to submerge a bottle of Nutella. If the water is too hot, this can break the Nutella glass bottle which isn't made of tempered, heat-resistant materials.
Making Easy Nutella Recipes
Now that you know several ways on how to melt Nutella, there's no reason for you to shy away from making delicious Nutella desserts. And because I like you, I will give you 3 easy Nutella recipes right now.
Recipe 1 – Cinnamon Nutella Cake
Ingredients:
175 grams butter (softened)
175 grams sugar (super fine)
200 grams self-rising flour
50 grams hazelnuts (chopped)
How to make cinnamon nutella cake Via DOLCE RITA
Procedure:
STep 1

Step 2

Step 3

STEP 4

STEP 5

STEP 6

STEP 7

STEP 8
Preheat oven to 320 degrees Fahrenheit
Recipe 2 – No Bake Nutella Cheesecake
Ingredients:
For the Oreo Crust:
3 tablespoons butter (melted)
For the Cheesecake filling:
3 teaspoons unflavored gelatin (melted in 3 tablespoons of water)
No Bake Nutella Cheesecake Via My Sweet Ambitions
Procedure:
STep 1

Step 2

Step 3

STEP 4

STEP 5

STEP 6

STEP 7

STEP 8
Combine the crushed Oreo and melted butter and press the mixture into the bottom of an 8-inch pan. Put it in the refrigerator to set.
Recipe 3 – Nutella Cupcakes
Ingredients:
1 cup golden sprinkles (topping)
How to Make Nutella Cupcakes Via Cupcake Jemma
Procedure:
STep 1

Step 2

Step 3

STEP 4

STEP 5

STEP 6

STEP 7

STEP 8

STEP 9

STEP 10
Preheat oven to 350 degrees Fahrenheit.
More Nutella Recipes
Can't get enough of Nutella recipes? Well, I've got you covered, as I have more surprises for you.
I have already given you a Nutella cake recipe, a cupcake recipe, and a cheesecake recipe. But if you are into eating pies, then you will be glad to know that you can make pie recipes with Nutella as well. Here are some Nutella pie recipes:
Oh, and yes – yes, you can make cookies using Nutella as the main ingredient, too. Below is a list of some delicious Nutella cookie recipes:
If you haven't tried using Nutella as dips, you're missing out on something really great. This is one of the easiest recipes you can do with Nutella and such recipes will make you enjoy your favorite dishes even more. Make sure you try some of the recipes below.
Nutella is the Only Way to Go
I love Nutella, you love Nutella, we all love Nutella. And now, you have a lot of Nutella recipes on your hands to try out and enjoy.
Do let me know how your recipes turned out by leaving a message below. If you want to share your own recipes, you can also do so. And hey, make sure that you pass this article on to your other Nutella-loving friends who also want to know how to melt Nutella.