Best Soda Maker 2019: Top Editor's Picks And Reviews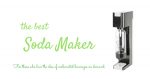 Sparkling waters are a thing now. It is where a machine carbonates water by adding carbon dioxide from a pressurized cylinder container to create carbonated water or most commonly known as soda water. And we will give you the best picks for soda makers in the market.
More...
Best Soda Maker 2019 - Top 3 Picks & Reviews
WHAT IS A SODA MAKER?
A soda maker is a device that can easily turn your simple water into a carbonated drink. It will be mixed with carbon dioxide and it will become all fizzy. You can also add any type of flavor into your carbonated water.
INVENTION OF SODA WATER
Many civilizations ever since the ancient times were interested in natural water that is rich in vitamins and minerals especially the ones that are infused with carbon dioxide.
In 1772 Joseph Priestley, a man from England, invented soda-water and his publication was entitled "Impregnating Water with Fixed Air". His instructions are:
"If water is only in contact with fixed air, it will begin to imbibe it, but the mixture is greatly accelerated by agitation, which is continually bringing fresh particles of air and water into contact. All that is necessary, therefore, to make this process expeditious and effectual, is first to procure a sufficient quantity of this fixed air, and then to contrive a method by which the air and water be strongly agitated in the same vessel, without any danger of admitting the common air to them; and this is easily done by first filling any vessel with water, and introducing the fixed air to it, while it stands inverted in another vessel of water".
BENEFITS OF HAVING SODA MAKER
1. EASY TO USE
It is extremely easy to use most of them you won't need to plug it into a power supply because the CO2 cartridge will be doing all the work for you.
2. UNIQUE AND FUN
It is such a fun thing to do especially when you have kids at home. They would think this is such a cool thing because not every home has one and it gives them the opportunity to do something that is totally unique.
3. GOOD FOR THE HEALTH
One of the greatest benefits a soda maker can possibly do for the health is that it is such a great alternatives for sodas and soft drinks that you buy from the supermarket. A can of soda has more than a cup of sugar on it whereas soda water is just simply water. No added chemicals needed.
4. CONTROL CARBONATION
There are some people who do not like a lot of fizz on their drink that is why this could help you out when you need to control the carbonation. You can even customize it to everybody's preference.
5. ENVIRONMENT FRIENDLY
This type of device is very safe and most importantly not harmful to the environment since you wouldn't need to buy batteries for it to work or even electricity.
6. CAN ADD FLAVORING
There are so many flavored drinks in the market today, like fruit sodas, juices and of course soft drinks. But these all have a certain type of chemical on it. But with soda water you can simply add fruits or any flavoring you want to go with it.
7. GADGET IN THE KITCHEN
If you are a techy kind of person and love to see different types of gadgets in your household, this can be added into your collection. You can put in your kitchen along with your coffee maker or toaster. It also comes in different colors so you can choose which one suits your kitchen theme.
8. MORE SAVINGS
If you have a soda maker at home, you wouldn't need to spend money on gas to go to the grocery stores to get drinks which you also need to pay.
HERE ARE SOME OF THE 2016 TOP PICS FOR SODA MAKERS​
Let's just say that when it comes to homemade soda water, this brand is the very first thing people actually think of. It has an easy to find carbonator refills and gives you the ability to control the fizz on your water. Now isn't that wonderful.
It is very fast and easy to use
It doesn't need any power so you don't need to buy or charge batteries for it. You also don't need to plug it into a power outlet.
If you carbonator runs dry, you can easily get new ones on their official website.
It also comes with a lifetime warranty and other accessories
Unfortunately, the fizz that it's supposed to make with the soda water does not last very long.
The dimensions of this product are a little too big so it takes up too much space on the kitchen counter.
Sodastream Dynamo LX Home Soda Maker Deluxe Mega Pack Via SodaStream
This soda maker is made of premium cast metal which makes it heavy duty and very durable. It can also be suited with the SodaStream above and it is also very easy to clean. What's so good about this is that it locks the bottle into place and also would look so good on a kitchen counter and it comes with different colors. Talk about fancy.
The package comes with a 60-liter CO2 tank and 3 flavor samplers.
It also includes a one-year replacement warranty.
This product also lets you control the fizz it makes just by moving the grip handle.
For a soda maker, this product is extremely pricey compared to the other brands.
Unfortunately, it leaks up CO2 whenever you are using it.
It is too slow when the water turns into soda.
Some models doesn't include flavor samples like it was supposed to
KitchenAid KSS1121CU Sparkling Beverage Maker Via KitchenAidAustralia
Just like any other soda makers, it also does not require any battery or electricity which is a very convenient thing. You can bring this anywhere since it is very lightweight and it comes with a 20 ounce CO2 cylinder which is rather small.
It is very affordable. Probably the most affordable soda maker in the market. If you haven't tried using a soda maker you can buy this for a very cheap price.
For an affordable soda maker, it makes nice carbonation in which some other brands lack
Unlike the other soda makers, the CO2 cartridge of this product is very hard to find and it is not very convenient once you need to replace it.
It also doesn't come with flavor samples.
This product can be very sturdy and it seems like the construction is a bit flimsy.
It doesn't seem like it will last long
NO WARRANTY
OTHER USES OF SODA WATER
You can actually clean dentures and retainers with the use of soda water. Just soak it completely.
Soaking any type of jewelry in a soda water can bring back its sparkle and it would look new since the soda water will dissolve any grimy residue.
You can also use soda water instead of just the regular water when you are making pancakes. It would make them fluffier and lighter.
Coffee stains no more. You can simply fill up a cup of soda water and let it sit for an hour or two then dab into the stain.
Also, you can use soda water when it comes to cleaning your stainless surfaces. Get a microfiber cloth and wash it with soda water then clean it. It would make your stainless steel spotless and shiny.
It can also help your hair stay healthy and shiny
CONCLUSION
Soda Makers have a lot of benefits and uses but finding a perfect soda maker can be rather difficult. Out of every soda maker machines, we have reviewed it is quite obvious that the Sodastream Dynamo LX Home Soda Maker Deluxe Mega Pack made it to the top. It is a trusted brand and it doesn't have many cons. The lifetime warranty also made it even better.