Best Sharpening Steel Reviews 2019: Top 5 Honing Rods for Knife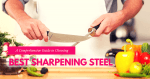 In search of best sharpening steel to be used in your kitchen? Then, this article will review some of the best options available in the market today.
One of the most important tools that should always be in your kitchen is a sharpening steel. Why? Well, it plays an important role along with a sharpening stone to prevent your knife from being dull. But, take note that these two are indeed different from one another.
To make things simpler, sharpening steel only maintain the edge of a sharp knife while the sharpening stone sharpens dull knives. There are many sharpening tools like sharpening stones , electric sharpeners, pocket knife sharpeners and sharpening steel. So, don't be confused between them once you are shopping for the best sharpening steel. Continue reading for you to be guided.
More...
Best Sharpening Steel Reviews 2019: Top 5 Honing Rods for Knife
Sharpening Steel Defined
Simply defined, sharpening steel is mainly used in terms of making an already sharp knife a lot sharper. It is best that you use this kitchen tool on your knife right after each use since it would remove any fins produced on the knife's blade. If you use this tool, it will help in rearranging and realigning the edge of the blade, therefore, maintaining its sharpness.
We can use the sharpening steel for some knives below:​
How to Use Sharpening Steel
Now, aside from knowing what sharpening steel is, better yet know how to use this one as well. In order to properly use this tool, consider these steps:
First, vertically place the steel over the cutting board.
Next, choose the appropriate angle and that usually rests on 20 degrees.
Finally, take alternate passes with the knife.
Once you are doing the slicing motion, there is a need for you to avoid moving the steel rather than let the knife move. You also have to make sure that the edge of the knife is the only part touching the steel and not the side of the blade in order to prevent scratches.
You should always be mindful of your hands once you hold the steel to avoid cutting yourself.
Features to Look for
And once you're already equipped with a proper way of using the said tool, shopping for the best sharpening steel might be your next challenge. Yes, it could be a bit confusing. But, with proper guidance, you will definitely choose the right one.
However, better be guided by these factors:
---
In most cases, the rod of the sharpening steel is made from high-carbon steel. However, these days, some models are made from diamond steel or ceramic.
Diamond, ceramic and steel are all capable in terms of keeping the fine edge of the sharp edge. But, a diamond rod could be a bit harsh for sharp knives since it does sharpen more than hones, though it could work in any kind of knives.
On the other hand, once looking for a regular maintenance, ceramic or steel is the best choice. Steel rods could either have fine ridges or could be completely smooth. Though the ridged steel rod might hone the edge a bit, still it tends to wear it down a lot faster.
And this is the reason why smooth steel rod is considered as superior to its ridged counterpart, though it couldn't be used with some Japanese-made knives due to the fact that it's delicate.
For the best features, ceramic rods are great. It is a lot harder so capable in terms of working with Japanese knives, but less hard compared to diamond that will not wear off the knife easily. In addition, they could also clean the edge of the knife at the same time realigning it like the steel rods.
Though some metal could be lost against this material, the amount could only be minuscule. In ensuring that a ceramic rod will not wear down your knife, a fine grit that is 1000 and up should be considered.
Slip-Resistant and Comfortable Handle
---
There is also a need for you to look for a slip-resistant handle in order to hold the sharpening steel safely and securely.
Your hands must as well rest comfortably on the handle. And the handle should have the right thickness allowing you a firm grip.
You should never buy a sharpening steel with a handle which is either too small or too large for your grip due to the fact that this could easily wear out your wrist as you use it.
You could hold the handle prior to purchasing in order to be certain of its firm grip.
---
A longer rod than your knife is a lot better option allowing you a full pass with the blade.
Though a lightweight or short rod could still work, you might need to exert a lot more effort and sometimes the results aren't good as the longer or heavy one.
A size of between 9 inches and 12 inches is considered as the common size of sharpening steels. But for versatility, the ideal size is 12 inches.
Those are some of the most important features that you should look for once planning to purchase the best sharpening steel.
Reviews of the Best Sharpening Steel
Winware Stainless Steel Sharpening Steel – Best Product for the Price
This one sits on top because of its affordability. There is no doubt that individuals looking for an affordable sharpening steel could turn into this product.
This sharpening steel features a stainless steel rod in order to put an edge on the knife. It comes in 12 inches along with a handle which measures around 5 inches in length. This handle is made of plastic so you can maintain it easily.
In terms of the rod, it has fine edges leading to effectiveness in roughing up the edge of the knife at the same time realigning it. In addition, this one has a hanging loop at the bottom of the handle so you could leave it hanging in the kitchen as for a storage. And to clean, simply wipe it with a soft damp cloth.
But, since it has fine ridges on the rod, it might quickly wear the edge of the knife.
Affordable
Hones and realigns the blade well
Great loop to hang on hooks
Heavy and solid
Great size suitable for different lengths of knife
Grooves easily wear down
Steel isn't hard enough to hone the knife's edge
Ridges wear the edge quickly
Messermeister Ceramic Rod Knife Sharpener
– Best Product Made of Ceramic
For those who are looking for a sharpening steel made of ceramic, this one from this list is right for you. It's actually a good choice to consider ceramic as it never runs out and it provides your basic sharpening needs.
You can sharpen your knife with such amazing tool and get your everyday work done. It features as a 12-inch sharpening rod that is made of 1200-grit industrial strength ceramic along with an alignment or honing steel. It is also good for preventative maintenance of the edge of your knife.
Since it features hard ceramic, it has a slight abrasive characteristic which serves you a perfect finishing of edge. It has a grip that is totally secured since it comes with a soft grip handle and there is an assurance of 100% Messermeister quality. And for convenient storage, the handle has a loop.
However, there are some cases wherein you might find the edge too coarse.
Fairly hard and heavy
Very comfortable handle and easy to grip
Sharpens and aligns the edge of the knife
Versatile
Too coarse edge
Other's couldn't get a good sharp edge on the knives
Wüsthof - 10" Knife Sharpening Steel – Best Product for Steel Quality
Another great option deserves to be included in the list is the one from Wüsthof. When it comes to steel quality, there's no doubt that this one excels at its best.
With a 10-inch magnetic steel, this sharpening steel collects metal fibers. It is designed along with a loop at the bottom of the handle intended for easy storage. And it also features a slip-resistant handle that suits comfortable in your hand.
In addition, this tool could easily realign the edge of the knife due to the fine ridges designed along with the rod. You have to make sure to wipe your knife with a damp cloth to clean right after every sharpening session.
On the other hand, you might complain about the fact that it rusts over a certain period of time.
Good quality of steel
Fairly hefty size
Hones and realigns the edge of the blade well
Tools have easily worn off
Not so great handle
It becomes rusty over time
Chicago Cutlery Walnut Tradition 10-Inch Sharpening Steel
– Best Product for Design
And finally, I will not forget to include this Chicago Cutlery Walnut Tradition in the list. Why? Well, it is not just because of its great features but because of its great design as well.
This kitchen tool features a 10-inch blade which is made of high-carbon stainless steel. It has a blade with small ridges allowing you to lend some tooth on the edge of your knife. Indeed, stainless steel could resist rust as well as stains effectively.
Along with that, it is also designed with a comfortable walnut handle being fastened with triple-bass rivets intended for stability. And for maintenance, just hand wash in order to clean. For any defects, this product is covered by a lifetime warranty.
But, this product might wear down easily. The sharpening ability of this one is also limited to some type of knives only and it offers no loop at all.
Good grip handle
Great in honing 9 inches blades and below
Nice satiny design
Easy to use and fairly heavy
Great price
Some knives become dull with the use of this sharpening steel
No loop to hook for storage
Easily wears down
Buck Knives 97082 EdgeTek Tri-Grit Ultra Steel Diamond Knife Sharpener 10" – Best Product For Different Steel Blades
This one also deserves to be on this list because of the fact that it handles almost all types of steel blades. Wouldn't you want that? If yes, then consider this one.
This sharpening steel has a 10-inch diamond coated sharpening surface along with a handle that is contoured with a polypropylene material. It also features a hand guard in keeping the blade from reaching the hand as you slip.
Aside from that, it also offers three different grits including 325, 750 and 1200. This one could also be used with great ease due to its weight of only 6.9 ounces. There is actually no need of worrying about any defects since this one is covered by a warranty.
On the contrary, you might find this one to be very expensive and a tool that is not ideal when it comes to regular maintenance.
Handles all types of steel blades
Great warranty service
Sharpens dull blades
Too expensive
Not suitable for regular maintenance
Can't swipe the blade in usual manner
Final Verdict
And from the five products reviewed, I would consider Winware Stainless Steel Sharpening Steel as the best sharpening steel due to the fact that it has met most of the features you might be looking for. Aside from being affordable, it has the ability to maintain the sharpness of your knives. It could also be used in various lengths of knife. And for storage, it offers a loop that is great for hanging on hooks.
Indeed, these 5 products could offer you the best possible support as a kitchen tool. You only need to choose the best among them. And we are happy to guide you through making your decision. And you can watch this to help you properly use sharpening steel.
If you have any questions, just let us know and put them in the comments below. Feel free to share this article as well. Happy reading!
If you don't like sharpening steel or you can't choose the best option, maybe you will like this sharpening stone reviews.