Amazing Tips on How to Choose the Best Pocket Knife Sharpener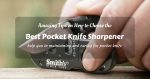 Pocket knives are practical tools to have around. If you have one, make sure that you also have the best pocket knife sharpener to help you in maintaining and caring for it.
If you're an outdoor person, a pocket knife is a must. And of course, you should also know how to sharpen a pocket knife (video).
More...
5 Ways To Sharpen A Knife Without A Sharpener Via Sierra Trading Post
If you're just a knife enthusiast, knowing the best way (and products and accessories) to take care of your precious tools is also important.
Types of Pocket Knife Sharpeners
Pocket knife sharpeners come in many different shapes and sizes. While the bigger ones are usually better because they can provide for a more thorough process of sharpening, the smaller ones may seem to be more practical. As pocket knives are usually used outdoors, portability has become a very important factor.
Parts of Pocket Knife Sharpeners
There are several parts in pocket knife sharpeners – and the different types of pocket knife sharpeners can have one or two (or more) of these parts
Basic Steps to Sharpening a Pocket Knife
Before I present you with the Top 5 Best Pocket Knife Sharpeners, let me show the basic steps in sharpening pocket knives first. Let this be your guide in sharpening, maintaining, and taking care of your pocket knives.
Top 5 Best Pocket Knife Sharpeners
Which is the Best Pocket Knife Sharpener to Go For?
I actually like all of the Top 5 products presented here – they're all good, honestly. However, if you specifically want something for outdoor use, I would suggest choosing from the top 3 – Lansky PS-MED01 BladeMedic, Smith's Consumer Products CCKS Pull-Thru Knife Sharpener, and the Smith's PP1 Pocket Pal Multifunction Sharpener – as they are all compact and very portable.
The DMT FWFC Double Sided Diafold Sharpener, which is a folding sharpener, is also a great choice – but it's rather expensive if you ask me.
As for the Smith's Oval Diamond Sharpening Rod, it's also an effective pocket knife sharpener – and it also works for other types of cutting tools. Its only downside is that it's not that portable for outdoor use (because it's long).
All things considered, I still recommend the Smith's PP1 Pocket Pal Multifunction Sharpener (which is the Top 1 on the list). It's just so cheap and useful that you can't afford to have one in your arsenal of knife accessories. Clearly (at least for me), it's the best pocket knife sharpener to have when you're going on an outdoor adventure.
As always, I would love to hear from you. Let me know your thoughts by leaving a comment below.
If you are looking for more types of knife sharpeners like sharpening stones, sharpening steels and electric knife sharpeners, check them here.