Best Non Stick Cookware 2019: Top Editor's Picks And Reviews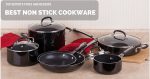 These days, all kitchens should have the best nonstick cookware set to help with the process of cooking. As all cooks and chefs know, preparing meals is a long and tedious process – which is also enjoyable. With the right kitchen devices (safe, functional, and easy to clean), healthy meals can be made without sacrificing too much time, quality and effort as well.
More...
Why Use Nonstick Cookware?
Unlike other types of cooking devices, nonstick cookware come with surfaces that possess a unique type of coating – a coating that's not sticky. Typically, you need some kind of fat (like oil or butter) to cook food in a pan without sticking, right? And still, somehow, ingredients tend to stick – which makes pots and pans difficult to clean.
Well, with nonstick cookware, you really don't need to use oil when cooking. You can still put in a little oil, if you want, but just a very small amount will work out great.
Having a set of high quality nonstick cookware is therefore beneficial not only to the cook but to everyone, too. As recipes are prepared with less oil, the final meals will be healthier and more delicious as well (greasy food can be icky, you know that).
The benefits of using nonstick cookware should therefore be considered when buying new pots and pans. These are healthy, economical and easy to clean. In fact, since food don't stick to the surfaces, scrubbing food remnants becomes unnecessary. All you really have to do is wipe the surface of the cookware and rinse them under running water. There are also dishwasher safe units – which are even more convenient.
Are NonStick Cookware Safe?
Food safety is, of course, an important issue – especially when it comes to preparing meals in your own kitchen. The truth is, not all nonstick surfaces are safe.
Teflon coating, which became very popular many many years ago, is no longer considered safe today. Studies show that this type of coating releases toxic chemicals when exposed to very high temperatures (such as in cooking).
PFOA (Perfluorooctanoic Acid) and PTFE (Polytetrafluoroethylene) are also present in Teflon nonstick coatings – and these are both considered to be toxic to humans. Keep in mind, too, that Teflon coating tends to breakdown and chip off with constant use – so, the tiny pieces of toxic elements can even mix in with the food you eat. Therefore, the best nonstick ceramic cookware or any non-Teflon pots and pans are always safer.
In spite of being considered toxic, Teflon products are still available today – and many people are still buying these products. However, if you are really health conscious, it would be best to avoid exposure to the substances that are present in Teflon products.
Fortunately, a lot of nonstick cookware don't use Teflon materials nowadays. These are advertised as PFOA-free or PTFE-free – for the information of the public.
In the case of Teflon and non-Teflon surfaces (or any type of nonstick surface, that is), always remember that deteriorating surfaces is never a good sign. So, if you see some flaking and chipping off, just get rid of the affected units and get some new ones (for health reasons, of course). To avoid such issues, it would help to use only the best cooking utensils for nonstick cookware such as spatulas (no knives, please!).
Now that you know what nonstick cookware is all about and whether they are safe or not, you can easily make up your mind when shopping for this type of product. Just look for a model that safely cooks nonstick cookware recipes and you'll be fine.
Below, you will find some reviews on some of the best nonstick cookware sets that are out on the market right now. Look over their features and consider the pros and cons of each brand and model. The list below will serve as your guide in choosing the best nonstick cookware for your needs.
Nonstick Cookware Sets Reviews
Which Non-Stick Cookware to Go for and Why?
I am actually torn between the T-Fal and KitchenAid models – so, I would recommend them both to you. Note that these 2 are in the same price range, but you will get more pieces of cookware in the T-Fal model.
I particularly like that the T-Fal package includes a square griddle and a one egg frying pan (I like making sunny side up for breakfast). The non-stick surfaces on the T-Fal pots and pans are also so durable that you are allowed to use metal utensils on them. In my opinion, this is the best safest nonstick cookware on the market right now.
As for the KitchenAid model, I like it because it's the best nonstick cookware for induction on the entire list (the T-Fal is not induction-friendly). Also, its pots and pans can withstand oven temperature settings of up to 500 degrees Fahrenheit.
Note, too, that both models are dishwasher safe nonstick cookware sets (yay!).
Your choice will, therefore, depend on your own particular preferences. So, pick the one that best suits your needs, ok?
Happy Cooking!