How To Pick The Best Latte Machine For The Money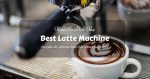 Latte is a specialty coffee drink enjoyed by many. It's actually a combination of espresso and hot, steamed milk. Of course, it's delicious – but it's also quite expensive, especially if you buy it from a coffee house. But with the best latte machine right at your fingertips, you can make this delicious drink right in your own kitchen.
Barista Skills and Latte Art Techniques by Barista Dritan Alsela Via Dritan Alsela
You really don't need any special barista skills (video) when you own a latte machine. It does all the work for you. All you really need to do is push a few buttons to be able to enjoy a delicious cup of latte (at a very low cost).
More...
Best Latte Machine 2019: Top 5 Picks & Reviews
Types of Latte Machine
Before picking a latte machine, understand your 2 options in the type of model to go for. You have 2 choices – to get a unit that uses coffee pods (or capsules or cups) or one that uses ground coffee.
Latte Machine that Uses Pods
This type of unit uses pre-packed containers for a single cup of coffee
It's convenient to use
There's no mess and they're easy to clean
You have the choice of choosing from different varieties and flavors of coffee.
Your choices are limited to the available coffee pods.
These models are quite expensive.
Coffee pods are not cheap
Latte Machine that Uses Ground Coffee
This model of latte machine uses pre-ground or freshly ground coffee. You can use pre-ground coffee in packs (sold in stores) or you can grind your own coffee beans.
You have the option of using different varieties of coffee grounds and coffee beans.
You can personalize every cup of espresso or latte according to your taste.
These units are usually more affordable than models that use coffee pods.
Coffee grounds and coffee beans are very affordable.
It's quite troublesome to use as you need to prepare (or at least measure) your own coffee grounds with every use.
Using coffee grounds can be quite messy.
The unit itself needs the thorough cleaning, especially the milk steamer used for frothing milk.
Choosing Between Commercial and Personal (for Home Use) Latte Machines
Commercial Latte Machines
Personal (for Home Use) Latte Machines
As you can already imagine, latte machines can be a bit complicated (technically speaking, that is). After all, it will automatically create a latte drink (a specialty drink) for you with the touch of a button.
And so, you have the option of choosing between an automatic (commercial grade) latte machine or a simple unit (for home use)
Automatic Latte Machine for Commercial Use
Commercial grade latte machines can be used in restaurants and coffee shops. There are also automatic models that can be used at home.
Multi-purpose espresso machines can create more than just espresso and latte drinks
These are usually very fast
They're big and heavy
They take up a lot of space.
These are not portable.
They're more expensive than models for home use.
Latte Machine for Home Use
These are latte machines that have simple designs. They are great for home use.
They're small and portable and can be kept on the counter (or stored in the cabinet).
These units are simple to operate.
They are very affordable.
Because of their limitations, these models are not for commercial use.
Things to Consider When Looking Out to Buy a Latte Machine
If you're decided on buying a latte machine, consider the following features and points below.
Water reservoir

– The size of the water reservoir is important as a small tank would mean constant refilling. Having a removable tank is also more convenient than a permanent one (especially for cleaning purposes).

Preparation time

– How long are you willing to wait for your coffee or latte? Some machines need a lot of time to heat up and brew coffee

A variety of drinks

– A unit that can make different blends and flavors of coffee drinks will give you more options to choose from.

Customizable settings

– You can personalize your coffee experience by having numerous options on your coffee's strength, cup size, etc.

Price

– Get a unit that you can afford or a model that will eventually pay for itself (think about your savings for not having to buy specialty coffee drinks in expensive coffee shops).
Reviews of the Top 5 Best Latte Machines
Before going shopping, take a look at the Top 5 list of latte coffee machines for home use below (there are no commercial-grade models on this list). In this section of latte machine reviews, I am presenting them to you with their features, pros and cons so as to help you decide on which is the best model for you.
Top 1 – Mr. Coffee BVMC-EL1 Cafe Latte
This Mr. Coffee latte machine is an all-around latte maker. It uses ground coffee and any type of milk. If you want this model, it's only available in the color black.
Key Features:
1 Touch Operation

– Put coffee in the chamber, fill the tank with water, pour milk in the carafe, and push the button to start. After about 5 minutes, you will have a pot of ready to drink the latte (1 to 2 servings).

Capacity

– The glass carafe can hold 8 ounces of finished latte drink (including the froth)​

Auto Power Off

– There's an indicator the light that shows you when the latte is ready.

Milk Frother

– A built-in milk frother is attached to the glass carafe's lid. It's a powerful frother that can make a lot of froth.

Versatile Design

– Since this model uses coffee grounds and milk, you can customize your latte into different flavors and varieties (for example, you can add hazelnut syrup to your drink).
Making a Cafe Latte at home using Mr. Coffee machine BVMC-EL1 Via sergiopa2002
It's fast – you can have a small pot of latte in just 5 minutes.
The package includes a recipe book for making lattes, hot chocolate drinks, and other varieties of coffee drinks.
It's easy to use
The unit is quiet during operation
It's easy to clean
The carafe is small and can only make 1 to 2 cups of latte at a time.
The glass pot is not dishwasher safe
This Mr Coffee Latte Maker is an intelligently designed latte machine. It brews coffee while steaming and frothing the milk. It's a very convenient latte maker for all latte lovers. As the Top 1 model in this countdown, let me tell you right now that it's the best latte maker for me.
Top 2 – Nespresso Inissia Espresso Maker with Aeroccino Plus Milk Frother
This model of Nespresso latte machine (video) uses coffee pods – Nespresso capsules and Nespresso-compatible pods.
It's a package deal as you will get an espresso maker and a milk frother to make your latte.
The milk frother comes in stainless steel color while the espresso maker comes in a variety of colors such as black, white, red, silver, and titan.
Key Features:
Coffee Pod Design

– The unit has an easy pod insertion design and an easy ejection of pods.


Uses Nespresso Capsules and Nespresso-Compatible Pods

– You can choose from a wide variety of Nespresso capsules (and compatible pods) – they come in different flavors and different intensities.

Water Reservoir

– The removable water tank can hold 24 ounces of water (good for 4 cups of latte).

Drip Tray

– The drip tray can be folded to accommodate tall cups.

Auto Power Off

– The unit will automatically turn off after 9 minutes of inactivity.
It comes with 19 bar high pressure pump for efficient extraction.
It's small and can be easily accommodated in the kitchen (and stored in the cabinet after use).
It's fast – your latte will be ready in about a minute.
There's a used capsule container that can hold around 10 discarded pieces.
You have a lot of choices in coffee and latte flavors as there are many varieties of Nespresso capsules and Nespresso-compatible pods (click to buy)
You can only use coffee pods on this machine
Top 3 – Ninja Coffee Bar Single-Serve System with XL Ninja Hot & Cold 22 oz. Multi-Serve Tumbler
This Ninja latte machine uses coffee grounds when brewing espresso for your latte. It's a single serve coffee maker that can make latte coffee drinks back to back (to back).
If you're keen on buying it, know that it's only available in 1 color – black with hints of silver.
Key Features:
Capacity

– It comes with a removable water reservoir that can hold 1.5 liters of water (good for 4 regular mugs).

Built-in Frother

– A milk steamer stick is integrated on the side of the unit. It can make froth for hot milk or cold milk.

Customized Brewing Technology

– You can choose the strength of coffee for your latte.

Adjustable Sizes of Cups

– You can use regular-sized mugs, extra large mugs, travel mugs or an extra large multi serve cup.

Included Accessories

– The package includes an extra large hot and cold tumbler.
It comes with a permanent coffee filter basket
It has a built-in sensor for cleaning the unit
You can customize the size and strength of every brew
The frother is simple to use
The frother only makes froth (or foam) – it doesn't steam milk.
The unit is not very compact and can take up some space in the kitchen.
While this is a single serve machine, it can make coffee back to back in just about 1 minute. You also have the option of making hot, cold, or iced variations in your coffee and latte drinks (yes, it's also an iced latte maker). However, since the unit is not capable of steaming milk, you need to do that part on the stove.
Top 4 – Mixpresso Latte and Cappuccino Maker
The Mixpresso Latte Machine and Cappuccino Maker uses Nespresso capsules and Nespresso-compatible pods. It's available in 2 colors – black and white.
Key Features:
Extraction System

– It comes with 19 bar pressure pump for delivering strong flavor of coffee.


Capacity

– The removable water reservoir can hold 1 liter of water (good for 4 cups).

Milk Frother

– A separate milk frother attaches to the main unit.

Auto Shut Off

– The unit automatically shuts off after completing the cycle of brewing coffee. The milk frother also shuts off automatically when done.

Used Cap Container

– Used capsules are automatically ejected into a holding chamber (15-cap capacity).

Cappuccino Maker Nespresso Compatible Capsules By Mixpresso Reviews Via SBno1
The unit has a compact design
You can use a wide variety of coffee pods (espresso, decaf, flavored, etc.)
It's simple to operate
The unit has a convenient design
It's fast – you'll get your latte in about a minute
The water reservoir is not that big
This model works a lot like a Nespresso coffee machine. It gives you the option of choosing from a wide variety of coffee capsules and latte preparation is really easy.
Top 5 – Gourmia GMF255 Espresso Coffee Pot & Milk Frother Combo
The Gourmia Latte Machine and Cappuccino Maker uses coffee grounds to make espresso.
The espresso maker comes in the form of a coffee pot (silver colored pot with 8 sides) while the milk frother looks like a big cup (colored black).
Key Features:
2-in-1 Design

– The coffee brewer and milk frother share the same heating base.

Capacity

– The coffee pot can hold 1.5 cups while the milk frother can hold 1 cup.

Control Panel

– One touch buttons will allow you to brew coffee and froth (and steam) milk.

Auto Shut Off

– The unit will automatically shut off after use

Materials

– The coffee pot is made of aluminum materials while the milk frother is made of anodized metal.
Gourmia GMF255 Espresso Coffee Pot & Milk Frother Combo Via Gourmia Channel
The design of the coffee pot is uniquely beautiful
It takes up very little counter space
The design is simple, making the unit easy to operate.
The materials used are durable
Price is cheap for a latte machine.
It takes a long time to make latte – 10 minutes for the espresso and additional 4 to 5 minutes for the steamed/ froth milk.
Capacity is small – you can only make one serving of latte every 15 minutes.
This model of latte machine is versatile as it can make espresso, latte, cappuccino and more. The only reason why it's the last model in our Top 5 list is that it takes so long to make a cup of latte. If you can wait for 15 minutes for 1 cup of latte, then this model is worth considering.
Which is the Best Home Latte Machine for the Money?
While all the units presented in the Top 5 list are all good, I only recommend 2 of them.
As you can see, the Mr. Coffee Latte Machine is at the Top 1 position – that's because I found it to be the most functional latte maker. It can make your favorite latte drink (and customize the brew as it uses coffee grounds) in just a few minutes. Moreover, it's easy to use and easy to clean. Just know that you can only make 1 to 2 servings of latte per cycle.
Another good option would be the Nespresso Latte Maker (the one on the Top 2 spot). This can make about 4 cups of latte specialty coffee drinks in about a minute and you have a lot of choices in blends and flavors as well (it uses Nespresso capsules and compatible pods).
If I were you, I would just pick between those 2 models I just mentioned above as they are the best of the best in the Top 5 list of latte machines.
So, what are you waiting for? Pick your choice and start making those delicious specialty coffee drinks right in your own kitchen.
Let me know how it went (I love hearing about your experiences). And don't forget to share this post with friends who are also looking for the best latte machine for them.