So Cool! Best Cooler For The Money Reviews 2019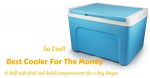 Chilly bin, cooler, portable ice chest, ice box, cool box or even esky, no matter what it is called in every country, we are all talking about that one box that keeps our food/drinks/ice whenever we are going outdoors. But which is the best cooler for the money? Keep reading to find out.
More...
Best Cooler For The Money 2019 - Top 5 Picks & Reviews
Best Cooler For The Money
WHAT IS A COOLER?
Normally, it has ice cubes or even ice packs are placed inside of it so that whatever you put in it will stay cool. It is most commonly known as a box that keeps foods/drinks cool. It is often used during the summer especially when going out and camping. You don't even have to put ice on it sometimes if you don't need for it to be that cold in a long while.
A man from Joliet, Illinois named Richard C. Laramy was the one who invented the ice chest/icebox in the 24th of February in 1951. The one who popularized the cooler was the Coleman Company who actually developed a process to make a plastic liner for cooler and some jugs.
WHAT IS IT MADE OF?
These things are usually made up of plastic with hard foam in between. It comes with different sizes to choose from. If you have a big family then they have a big one that can still fit in a family vehicle with wheels on it since it might be too heavy to carry.
But if you want to have a disposable one, they have a cooler made of polystyrene foam like the disposable cups about 2cm or 1 inch thick. A thermal bag or a cooler bag is a little similar but it is smaller.
DID YOU KNOW? In the United Kingdom, they call this "cool-box" while in the United States it is commonly referred to as "cooler." In New Zealand, the common name is "chilly bin" whereas, in Australia, it is generally called "esky" as a generic trademark.
HOW DID PEOPLE REALIZE ICE CAN BE KEPT WITHOUT MELTING (Timeline)?
1637- It was the governor of Virginia, Sir William Berkley, who had the idea of collecting the snow and keeping it in pits and caves to prevent it from melting quickly. In the next 14 years, he had a monopoly on selling snow/ice in England.
1700- Based on Berkley's idea, the Chestnut Street Hotel came up with an idea to build an underground "Ice House" and serve the special "punch" with a block of ice with it to keep it cold.
HOW DID PEOPLE REALIZE ICE CAN BE ADDED TO A DRINK(Timeline)?
1800- A man named Fredric Tudor realized that ice is more than just an unfortunate side effect of winter.
1805- In Boston, Massachusetts, there were two wealthy brothers at a family picnic, enjoying a "cold beverage" and an ice cream. They thought of how chilled refreshments could make the entire world jealous.
1835- 30 years later, one of the brothers Fredric Tudor would ship about 12,000 tons of ice all over the globe and became known for his nickname "Ice King"
FIRST ICE BOXES
The very first ice boxes were made from wood and lined with seaweed.
TYPES OF COOLERS
TRADITIONAL
These classically designed coolers usually consist of foam insulation with some pieces of glued onto the exterior. Its handles and hinges are screwed to the main body.
And its lids are tight fit and friction to have an internal latch that clicks closed. This type of coolers costs less than US$100
HIGH-END
This type of cooler is the newer version of the traditional one.
It features thicker walls with foam and lids with rubber gaskets that maintain a tight seal via large external latches. It also is way more pricey than the traditional ones that range from US$200-500
BEST COOLER FOR THE MONEY
This is probably one of the "high-end coolers" in the market today. But despite that, it is not even as expensive as the others that are why this is the TOP PICK. It has this rugged but fancy look that is meant to last for a long time. It looks so sturdy and durable. It is also easy to carry around with its ruggedized handles
It can make your ice last up to

7 DAYS

without melting. Which may seem unbelievable but this is for the places which are under 30 degrees celsius
It has stainless steel hardware with a tie down built-in locking area where you can keep the heat from coming in
It comes with a very good price range. Not too expensive and not too cheap
It leaks down but it just a minor thing which happens to

every

cooler
Pelican Elite 45Q Pro Gear Rolling Cooler Unboxing / Review Via Robert Moseley
This is considered to be the "portable refrigerator when used PROPERLY" which kind of means if you do not use it properly it wouldn't really work as it supposed to be. This can also take several days before the ice melts but for some people, it only took 3-5 days, which is considered to be the "improper use" since it's supposed to last for a week
If used properly, it can take up to a week and a few days max which is perfect for people who likes trekking and camping
It features a ColdLock Gasket which reduces and minimizes the unwanted air that might get in
It is a little too OVERPRICED for a cooler that has almost the same features as the others. It may be great but it is not worth it
You have to freeze everything you put in it since it wouldn't freeze itself by just being in the cooler
It doesn't drain well for a high-end cooler
The handles are NOT comfortable when it is being carried
YETI Tundra Cooler Overview Via RIZKNOWS
This made in the USA coolers are surely heavy-duty, durable and meant to last a lifetime. It has an actual quart capacity of 36 quarts. The ice lasts longer if it is full but if it is not it lasts for about 3-4 days max. It has 30 years of experience when it comes to coolers and durable services. It is tough as a grizzly bear and efficient when it comes to outdoor usage
It comes with a great design with amazing rope handles, solid latches and hinges
It is PERFECT for fishing, hunting, camping or any other outdoor activity that it is needed. You can definitely count it
The ice retention doesn't work as good as the previous ones
It hit 32 degrees within 2 days
Grizzly 40 Cooler Review, Grizzly vs Yeti Coolers & Results of Five Day Ice Challenge Via Coolers On Sale
Well, this is another product that is made in the USA. Their brand has been around since 1947 and their products have been used by families all over the Unites States, it is obviously one of the most commonly known brands besides Coleman. When talking about the leader of portable coolers, this guy is the man of the hour. It may not be as expensive or as high-end as the Yeti, it still works above average
Its actual quarts capacity is 67 quarts and only 3 quarts less than the advertised capacity
For maximum security, it has a lockable lid and uses a standard size lock with an integrated fish ruler
It also has anti-skid feet on its base that would keep the cooler from sliding and when it is on a truck or boat
It is a little too bulky and big to be carried around
Its rigid molded handles make it difficult for a person to carry it when used for camping or any outdoor activity
Now, this is definitely "an oldie but a goodie". It is considered to be the grandfather of all coolers and other camping supplies. Coleman started it all. Everyone knows this brand and it may not be a high-end brand but that just means it is for everyone to have. This cooler only comes with one size in 25.5 inches by 17.6 inches and has the capacity of 85 cans
If you are looking for a nice cooler where you can put a lot of your stuff that needs to stay cold. This is definitely a must have for you
It is extremely easy to carry with its side handles and rubber grips
If you want things to stay really cool for a long time. Sandwich them between ice blocks or cubes
It is not completely stainless steel. It is only steel belted which means it's a plastic cooler covered in steel
It has a minor problem with a latching mechanism
CONCLUSION
If you prefer a more traditional and cheaper you may get the Coleman Steel Cooler. But if you want the best among all of the high-end coolers without wasting too much money, go for the Pelican Products ProGear. Bear in mind that coolers only would work its best if it is used properly and will be handled with care.