Facts On How To Choose The Best Coffee Grinder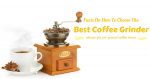 Now that you are in search for the best coffee grinder, you are surely aware that freshly ground coffee delivers the best cup of brewed coffee. Sure, you can always get pre-ground coffee beans – if you are willing to trade flavor and aroma for convenience.
A true coffee lover should be willing to go through some trouble to make a perfect cup of coffee. As a fellow coffee lover, I am here to help you choose the coffee grinder that's best for you. I will present you with the Top 10 coffee grinders today so that you can choose from some of the best options out there.
More...
3 Types of Coffee Makers
You need to understand the 3 types of coffee makers to determine the type of ground coffee you need. This information will help you determine the type of coffee grinder that's most suitable to your needs.
2 Kinds of Coffee Grinder
There are 2 kinds of coffee grinder. It's important to know how each one works, as this will affect the quality of your brewed coffee.
Burr vs Blade Coffee Grinders Via FreshGround Roasting
Important Factors to Look for in a Coffee Grinder
4 Basic Grinding Methods
While there are many different levels of fineness and coarseness of coffee grounds, there are 4 basic types of grinds for making coffee.
2 Types of Coffee Grinder
Before getting into our Top 10 countdown, I want you to know that you can choose from 2 types of coffee grinders – manual and automatic.
Reviews of the Top 10 Best Coffee Grinders
Which is the Best Coffee Grinder for You?
I highly recommend the Bodum coffee grinder because I believe it's the best coffee grinder among all the products in our Top 10 list. Since it's a conical burr grinder, it can produce even grounds of coffee consistently. The glass container also gets rid of the static problem associated with plastic. You can even choose from many different colors if you get this model. As for the price – the price is very reasonable.
Brilliant Hack to Remove Static in the Coffee Grinder at no cost Via FrenchPressCoffee.com
If you're specifically looking for a blade grinder, the Quiseen model is worth looking into. It's cheap, and it operates at 150 watts (which is just right). And although coffee grinders are usually noisy (video), this model is unusually quiet.
Coffee Grinder Noise Levels Via Seattle Coffee Gear
The Cuisinart coffee grinder is good, too – if you want a model with a lot of programmable settings. But since it's not a conical burr grinder, the resulting ground coffee may not be that even and consistent.
Now, if you're particularly looking for a manual type of coffee grinder, you can choose between the JavaPresse and Kuissential models. Since they are not electrically powered, prepare to grind coffee with some effort.
The entire procedure is slow and quiet, but the resulting ground coffee will be even and consistent (almost perfect) – and therefore, flavorful. The manual coffee grinders presented in the Top 10 list are both conical burr grinders – so, they're really good.
Well, that's it! I hope this article proved to be really helpful to you. Let me know your thoughts by leaving a comment below. And don't forget to share this post with fellow coffee lovers who are also looking for the best coffee grinder.