Best Cheese Slicer 2020: Top Editor's Picks And Reviews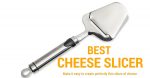 Cheese is one of the main ingredients in almost every meal. Either it is for an appetizer, main dish and even on desserts. But how do we exactly determine which is the best cheese slicer for us? Some people use knives but it is far more convenient if we you some top rated cheese slicers that we will review in just a bit.
More...
Best Cheese Slicer 2020: Top 5 Picks & Reviews
Best Pick for 2020: OXO Good Grip Wire Cheese Slicer
Types of Cheese Slicers
Before we get into the top rated cheese slicers, you must first consider which type of cheese slicer would suit you best.
Adjustable Wire Cheese Slicer
Allows you to choose how thick you want your cheese to be.
Must be hand washed due to the screws on the side of the slicer.
It has an adjustable wire to slice various types of cheese.
Norwegian Cheese Slicers
Also known as "Cheese Planes"
It is a flat, spatula-like blade surface to scrape of slices of cheese
It has a hole in the blade so that the cheese can pass thru smoothly
Wire Cheese Slicers
This comes with a cutting board
It can be used for serving the cheese
It comes with Marble, Wood, and Stainless
Check out this video for you to have an idea how to use a wire cheese slicer.
How to Use a Wire Cheese Slicer​
DID YOU KNOW? 

Scandinavian carpenter Thor Bjørklund invented the cheese slicer back in 1925.
Things to Consider in Choosing the Best Cheese Slicer
Now that you know the types of cheese slicers, you must now know what are the things to look for when it comes to cheese slicers?
Safety
Just like the saying goes, "Safety First". Probably the most important thing to look out for is this. Wouldn't you want your cheese slicer or cheese grater to be a finger slicer as well right?
Remember to look out for the following to make sure it is safe:
Non-slip handle
Rubber feet for a non-slip cutting board
Well-secured cutting wires.
Durability
A lot of cheese knives and slicers would say that their product is durable, even if it is not. It would also be wise to purchase a heavy duty cheese slicer than a cheap one that could hurt you or could just make you buy a new one.
To ensure its durability, it must be made of one of these two:
Stainless Steel
Zinc Alloy
Adjustability
The most annoying thing is that the cheese that we sliced didn't go the way we want it to. That is why you should make this a priority when it comes to picking the right cheese slicer. Not all cheese slicers have this kind of feature so if you find a good quality one you must give it a try.
Now let's begin counting down the Top 5 Picks for Best Cheese Slicers
It is considered to be the Best Stainless Steel Manual Plane. It has a multi-use construction that can be used as a cheese cutter or a potato peeler.
100% Dishwasher safe

Made with the most durable materials in the world.
LIFETIME Guarantee

Can be used on semi-hard or hard cheese
The strong handle has a small silicone thumb grip to help you hold the slicer well when using the plane on hard cheese
Creates nice slices for hard cheese
Difficult to cut thin slices of cheese
Slightly sturdy
Not very suitable for soft cheese
If you are looking for a new cheese slicer that is durable, functional and easy to use this is the one for you. Although this is not dishwasher safe due to its form, this cheese slicer is a lot faster than a knife when it comes to slicing.
Made of a silver-themed zinc alloy material

Has a 4-inch stainless steel wire slices
Hand-Washable

Easy to maneuver. It cuts more effectively than a regular knife.
It can adjust to different thickness, a feature, not every slicer has
Very suitable for both hard and soft cheeses.
NOT Dishwasher-safe
The slice size adjustment can be rather difficult to unscrew and set back.
The handle and frame are a little too heavy
This professional grade dark-themed cheese slicer has an 8-inch premium heavy-duty construction. With no parts needed to replace or move, this is a version of the 1925 original design by Thor Bjørklund. This cheese slicer's design is visually attractive and reliable regardless of the occasion.
The blade of this slicer is sharp enough to slice the hardest cheese.

The flat end acts as a guide and stabilizes the depth of the blade, which makes the slices very thin without exerting effort.
It does not pose a significant hazard for the user due to its position.
Offers a Lifetime warranty money-back.
The spatula-like end acts as a receiver of slices, but it can also be used for other tasks such as serving a piece of pie.

Recommended for medium to hard cheese
Lightweight and very comfortable to use
It has a rubberized non-slip handle that is easy to hold and control while slicing.
Dishwasher-safe BUT tends to rust after putting it there often.
The angle of the blade can give you a hard time slicing your cheese the way you want it to
The handle and frame are a little too heavy
Westmark Stainless Steel Cheese Slicer Review Via Night Howler
This Nopro cheese slicer features a heavy duty zinc alloy construction that uses a very sharp stainless steel cutting wire. This actually sets the standards when it comes to what a cheese slicer should be like. It also has a cutting wire replacement included in the package.
It is affordable yet high-end cheese slicer.
This cheese slicer is durable with its 5inches slicer that adjusts to different thickness.
Have a safe and hand-washable design.
Consistently cut evenly and easily every time.
It can also be used for serving during parties.

It is the toughest cheese slicer on the market and can last for a long time.
You can slice cheese as fast and as consistent you want without worrying about hurting yourself.
Has a spare wire included in your purchase?
NOT Dishwasher-safe.
The handle and frame are a little too heavy
The slicing wire tends to loosen up once in a while.
True to its brand name, the Good Grip Wire Cheese Slicer has a handle made of a soft rubberized non-slip material

The stainless steel wire is easy to load and is tightened into place with the convenient tensioning wheel.
By just adjusting the angle of your wrist, you can change from thick to thin slices or however you want it, indeed very versatile right ?

It is VERY SAFE. The wire relies on pressure over sharpness so your fingers will never be at risk
It has a thumbnail mechanism that allows for easy adjustment.
Very affordable yet features sleek design and performance, making it ideal for most kitchen buddies.
Dishwasher-safe BUT make sure to loosen up the wire using the tensioning thumbwheel
The wire is ½" away from the roller.
Softer cheese tends to stick to it
OXO Wire Cheese Slicer with Replaceable Wires Via EXO
PRE-PURCHASE CONSIDERATION
Wire VS Blade
Like I mentioned above, the BLADES are versatile and can also be used for vegetables and any other food. It just depends on the sharpness of the blade's edge, which normally lasts for a very long time if used properly.
BUT there is a high risk of cutting yourself. No one wants to have bloody fingers now do we?
WIRES, on the other hand, are specialized tools that are SAFE and EASY to use. The only downside of this product is the wires tend to loosen up or break BUT, some brands and manufacturers offer easy to install wire replacements, some are even included in the purchase or you could buy a separate one for a very affordable price.
I THEREFORE CONCLUDE
That the BEST and TOP RATED CHEESE SLICER for 2016 is …
WHY?
The top 5 picks are all great and a must try. But if you didn't notice, the other 4 has almost the same "pros and cons" especially when it comes to the wires or being sturdy and heavy to use.
The OXO Good Grip got something they didn't have. The thumbnail mechanism makes it a lot easier for you to adjust the wire however you want it to. Yes, all of the cheese slicers that have wires can break, it is inevitable but what is so good about the OXO Good Grip Cheese Slicer is that despite this, you can easily change the wire without having to hurt yourself because of the thumbnail mechanism. Oh, and they give you 2-3 replacement wires.
Therefore, it is affordable, durable, safe and unique.
I hope this little review helped you out in any way possible.
How to replace a wire on a Cheese Slicer.
Replacing cheese cutter wire, DIY Via E.E
RESOURCES
1. OXO
2. NoPro
3. Bamix Shop
4. Cook N Home​
​