Best Boning Knife Reviews 2020: Top 5 Picks (Stiff, Flexible, In-Between)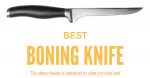 I am pretty sure you have struggled when it comes to removing bones from that turkey meat and chicken. No need to worry anymore because I will be reviewing the Top Picks for the Best Boning Knife this 2020. Take time to read these reviews and ensure that you are fully convinced that a particular knife is ideal for deboning.
But before we get into those pretty little knives, let's get to know what a boning knife really is.
More...
Best Boning Knife Reviews 2020: Top 5 Picks
What is a Boning Knife?
A boning knife is typically used for removing the meat from its bone. Although, it is not meant for cutting the bone since that is a job of a butcher knife (which is a totally different kind knife). A boning knife is similar to utility knives, it is thin, flexible design mean to move as gracefully as possible.
Choosing the "right" Boning Knife
Make sure it has "flexible steel blade"
A stiff boning knife is used for red meat for précised cuts
A very flexible boning knife is perfect for poultry and fish
Boning knives cannot be used for cutting on chopping boards.
Must have a top-grade steel construction
The boning knife must have a non-slip handle.
What to Look For When Buying Your "First" Boning Knife?
1. Handle
There a lot of different types of a knife handle. Wood handles can be nice looking but it tends to rot rather quickly and doesn't provide the same level of grip and resistance.
Another thing to consider when choosing boning knife handle is the tang of the blade.
Full Tang means that the blade goes all the way through the handle and provides more control.
Partial Tang means the blades are fine but the can break where the handle meets the blade.
2. Types
Stiff –is used on thicker cuts like for meat.
Flexible– is used for fish since it tends to bend and you can control it.
3. Blade Design
Curved- is typically used for fish
Straight- is commonly used on meat since if this is used on a fish, it will be more intricate and difficult to complete.
Here are the Top 5 Picks for Best Boning Knife
Mercer is considered to be one of the most popular brands when it comes to knives and this little boning knife is one of the greatest knives in their collection. It has an ergonomically designed Delrin handle and is NSF certified.
Its blade is exceptionally sharp and flexible, just perfect

The handle is triple-riveted for better and comfort
Stability with long lasting sharpness

This boning knife doesn't rust, stain or corrode.
The sharp blade makes slicing and trimming meat a quick job.
The handle cannot break down easily, even if it has been exposed to heat or oil found in your kitchen.
A little pricey but it's worth it
You might have a hard time
Mercer Culinary Genesis 6-Piece Forged Knife Block Set, Steel/Black Review Via Zachus
This Victorinox knife is possibly the most affordable yet durable boning knife in the market today. It has an impressive sharp tip and a comfortable handle. Definitely, a must try if it is your first time using a boning knife. Why would you get an expensive one when you can get this?
Its flexible blade can beautifully separate meat, poultry or fish from their bone.
It has a high carbon steel blade.
Unfortunately, because it is cheap it tends to rust rather quickly. I mean it is such a great boning knife but then again the price really does matter. Having a nice boning knife that is a little pricey is an investment.
Very lightweight and easy to use
Extremely cheap boning knife compared to others
This knife is good for delicate work
The blade can be flimsy over time
Rusts quickly
After a couple of uses, it loses its edge over time
Victorinox Fibrox 6 Inch Boning/Fillet Knife — Review and Information Via The Knife Wizard
This is one of the best knives for boning poultry. It is also great if you are an amateur de-boner. With only reasonable care and maintenance required, Wusthof knives will be handed down to the next generation.
The blade is made from a forged, high carbon stainless steel

It is ideal for poultry deboning
This knife has a traditional-style composition handle is triple-riveted for strength
It is eco-friendly and has extraordinary sharpness
It is dishwasher proof unlike the first two
Amazing stability when in use
It wasn't as ergonomically comfortable like they said
Dulls fast
It doesn't come with a sheath means you can only use it in the kitchen.
Wusthof Classic vs Wusthof Ikon Reviews Via The Knife Wizard
This boning knife is a close competitor of the Wusthof Classic boning knives. It has a pretty amazing look and makes removing bones easy as pie.
The Global Cromova boning knife has an all-purpose portion

Its razor sharpness is indeed fascinating
The handle of the knife is stainless steel which allows you to put more force onto the blade without worrying about breaking where the handle meets the blade
The grip when using it is exceptional
The stainless steel handle ensures that if your hand slip while deboning, it won't slip straight to the blade.
Lifetime warranty
A little too expensive
Flexible yet slightly stiff
Gets dull rather quickly
Global Cromova reviews Via BurningCereal
This Japanese-made knife is designed to be the ultimate knife for filleting and boning. Its long blade is based on the authentic Japanese sword, the "samurai".
The Shun boning knife allows you to remove the bones from the meat with one precise cut.
The knife's optimal control and maneuverability ensure maximum yield.
It is handcrafted in Japan.
It is not dishwasher safe
When it comes to filleting fish, the blade is just right to glide through the body of the fish
Fibrous tissues are no match with this knife's sharpness
Must be washed with warm water and mild detergent
Needs to be sharpened quite often
Not very good for deboning meat traditionally
Shun Classic Gokujo reviews Via The Knife Wizard
CONCLUSION
After going through those boning knives I have decided to pick the Mercer Culinary Genesis Knife as the winner for the 2020 Top Picks for the Best Boning Knife. The other boning knives are pretty awesome as well, but there are just things that they don't have which the Mercer has. Also, it may be a little bit pricey but then some of you might want to get a cheaper and affordable boning knife but you are buying for the quality.
How to Select a Boning Knife ​
Yes, not everything cheap is low quality but when it comes to boning knives, I personally believe it is. The slightly expensive ones are more précised and come with a very sturdy and sleek design that would last for years which would cost you less money that getting a cheap one and getting a new one every now and then.
Good Luck getting a new boning knife! Hope I helped you make good choices.
For more boning & fillet knives, check out our list of knives here.