Review Of The Best 4 Cup Coffee Maker – Ultimate Guide And Reviews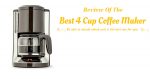 Review of the Best 4 Cup Coffee MakerYou read it right – you will see the review of the best 4 cup coffee maker for you in this article (I guarantee it).
Actually, I will review 10 4-cup coffee makers of different types in this post. And so, by the end of this review, you will be able to decide which unit is the best one for you.
I will also give you information as to how different types of coffee makers work. This way, you will get to understand each one better (as well as their pros and cons).
Note that you will only find coffee makers with 4-cup capacities here. This will cover coffee makers that are intended for 1 to 2 persons only, or units that can be easily accommodated in small spaces (such as dorms, apartments, and homes with small kitchens).
Let's get started, shall we?
More...
5 Types of Coffee Makers
There are 5 basic types of coffee makers to choose from – drip coffee makers, espresso machines, French Press coffee makers, Percolators, and Moka Pots. I will explain each type below.
Things to Know When Looking Out to Buy a 4 Cup Coffee Maker
Since you're specifically looking for a 4-cup coffee maker, it would be good to understand the measuring system used in coffee makers. You see, we use different sizes of cups and mugs at home – so, our idea of a cup can vary with one another. Mugs have different sizes, too (they're basically double in size when compared to standard cups).
In the world of coffee, the standard size of a cup of coffee is typically 4 to 6 ounces. This measurement is quite smaller than the cups we use at home. Consider the points below to better understand cup measurements in coffee makers.
So, please, don't be surprised that these models of coffee makers have very small pots and carafes. These models of coffee makers are really intended for personal use (for 1 or 2 coffee drinkers at a time) and for use in places with small spaces.
Things to Consider When Buying the Best 4 Cup Coffee Maker for You
I will help you find the best model of coffee maker for you – that, I promise. So, before going to the review section of this post, consider the following items listed below.
Top 10 4 Cup Coffee Maker Reviews
Which is the Best 4 Cup Coffee Maker for You?
I hope you have already chosen which among the Top 10 coffee makers listed above is the best model for you. Still, let me give you a few suggestions.
If you're looking for a simple but functional drip coffee machine, the Haier 4 Cup Coffee Maker would make a perfect choice. It's a 2-in-1 product since it also comes with a built-in coffee grinder (the only one on the list).
Now, if you want a simple drip coffee maker (without the grinding feature), the Mr coffee 4 cup coffee maker would be a great option. It's the only programmable coffee maker in this post – so, it's the only one capable of being programmed in advance to brew coffee for you (if you want to wake up to freshly brewed coffee, get this model).
If your chosen type of coffee maker is French Press, go for the Bodum coffee maker. It's simple to operate and it's guaranteed to make great tasting coffee all the time.
For the best choice in a percolator, the Farberware electric percolator makes for a fine choice. It's powerful and easy to use and it can make delicious espresso.
Lastly, I also recommend the Venus Moka Pot – it's the best Moka Pot in the Top 10 list. The pot doesn't leak and it's reliable in delivering hot, fresh espresso in each preparation.
At this point, may I just say that I am not recommending the Mr. Coffee Espresso system even if I like it a lot (it landed on the Top 10 spot)? The use of aluminum materials in the boiler system simply turned me off – although it would have been a highly recommendable unit because of its other features.
It's up to you to make the final choice in choosing the best 4 cup coffee maker for you– this article is simply your guide in arriving at the right decision. Do let me know if this post helped you and don't forget to share it with other coffee lovers, ok?